How to Cope with Being Alone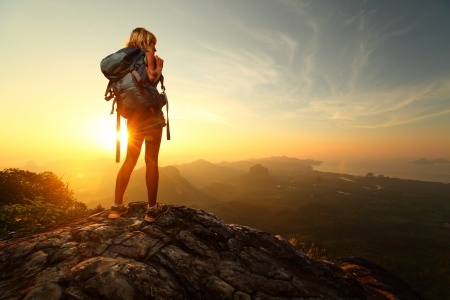 Humans are inherently social creatures. We thrive from connections that we create with loved ones. And although there is a large spectrum of comfort with social contact, it is true that we all need to feel connected. When we are forced to be alone by whichever life matters have brought us there, coping with solo life can be difficult. Here are some things to consider trying during your streak of independence:
Have a happy mindset:
Most of our troubles are created by our frame of mind. Look at this as an opportunity to explore and learn more about yourself. You now have this time to devote to yourself! This really is true independence. Keep an open mind about meeting new people, and engaging in new activities. Happiness comes from within. Don't make excuses!
Learn Something New:
What is something that you always wish you had learned? For me, I would love to learn how to play the guitar. During a time when I was alone previously, I learned how to knit. Take lessons or watch video tutorials online. Connect with others who have a passion for whatever it is you want to learn to do. They will love the opportunity to share their passion, and you will get to absorb their knowledge!
Adopt a Pet:
For longer periods of time alone, pets are great way to focus your need for connection. Dogs are great because they really love their humans. Their reliance upon you will help to give purpose to your day. If you can't adopt a pet, volunteer at your local animal shelter. Walking the dogs is a great chance for you to get out, take walks, and connect with another being.
Read:
This summer my goal is to read five new books. There is always something to be gained from reading. You'll become more educated, pass time, and become a better-rounded person. Check out some classics like Huckleberry Finn, Wizard of Oz, The Catcher in the Rye, or The Great Gatsby. Walden, by Henry David Thoreau is about a spiritual quest to live independently in nature.
Exercise:
Imagine getting that body you've always wanted. Now you have no excuses. Wake up with the sun and just take a walk. Join a work out class. There is Yoga, Pilates, Barre, Spin, Zumba, Weight Lifting, and SO MANY MORE! Some big cities offer free exercise classes outside during the summer. You'll look great, feel better, and you'll seriously impress your loved ones next time you see them. See this story about a woman who took advantage of her time away from her husband to drop 100 pounds.
Pick up hours at work:
Focusing your extra hours into your work life will give you an extra cushion in your bank account. You will have more free money to pay off bills or save for your next goal. If putting in more hours at work sounds like the worst idea in the world, consider volunteering. It'll still keep you busy, but you will have more control over your schedule and hours. You'll be making a positive impact in the world as well!
Explore:
Go outside! It's a big beautiful world out there! You won't meet any interesting people by staying home. Get yourself a pair of hiking shoes and explore local state parks. Connect with nature by kayaking, rock climbing, hiking, swimming, or even just having lunch in the park.