Mental Illness and Creativity: Is There a Connection?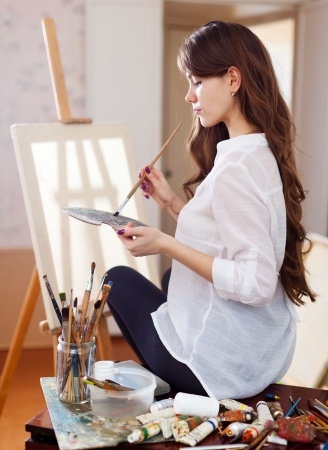 A great many creative people – artists, poets, musicians, even philosophers – have been thought to be mad since ancient times. Some cultures honored their eccentrics, the "different" ones, but others often had them put in asylums or even executed as witches. Obviously times have changed since then and society has become much more open minded about mental illnesses. Psychological studies have shown that there is, in fact, a connection between mental illness and creativity. While mental illness does not necessarily equal creativity, and vice versa, there have been found many cases of links between the two.
For many people who live with mental illnesses, it provides them with an opportunity for a unique perspective on life, coming at reality from an oblique angle. Couple that with creative talent and intelligence, and an artistic genius can be born. People with serious mental illnesses such as clinical depression, schizophrenia, bipolar disorder, and anxiety disorders exist with their sensory volume turned way up. It is harder for them to filter out information for the purposes of focus, and so they take in much more than most people do. While this may cause a lot of inner turmoil and suffering, it also gives them the ability to form connections out of seemingly disconnected things, feelings, and ideas.
William Lee Adams, who writes for CNN, said in his article The dark side of creativity: Depression + anxiety x madness =genius?, "Celebrated Norwegian artist Edvard Munch's life was fraught with anxiety and hallucinations" But, he goes on to write, "The painting (The Scream) is thought to represent the angst of modern man which Munch experienced deeply throughout his life, but saw as an indispensable driver of his art. He wrote in his diary, 'My fear of life is necessary to me, as is my illness. They are indistinguishable from me, and their destruction would destroy my art'."
Psychologists, having been almost enraptured with this question, conducted early studies of well-known artists who worked in a variety of media, and the conclusion was that many highly creative people suffer from mood disorders. Clinical depression plagued people like Charles Dickens, Tennessee Williams, Ernest Hemingway, Virginia Woolf, Sylvia Plath, Jackson Pollack, and Anne Sexton.
Many of these studies rely on anecdotal evidence and have been harshly criticized. But neuroscientist Andreas Fink of the University of Graz in Austria published a study in which he compared brains of creative people to those with schizotypy, which is a milder form of schizophrenia.
Adams writes that the psychologist Scott Barry Kaufman, who also writes for Scientific American "has summed up the results (of this study) this way. 'It seems that the key to creative cognition is opening up the floodgates, and letting in as much information as possible. Because you never know: sometimes the most bizarre associations can turn into the most productively creative ideas'."
While creativity remains somewhat elusive, the answer to the question posed in the title of this article is "Yes". There is a connection between mental suffering and creative expression. The depth required to probe the human condition through art of any kind, sometimes takes a special vision and sensitivity that the "normal" person often escapes. Is creativity a curse? Modern pharmacology has made it less so. But people need to want to be helped and many artists hold the sentiments of Edvard Munch – that without their illness, their art wouldn't exist.